Thinking Cards
"In the space of one day having shown them to a few key staff the resounding response is 'Where is my pack'?"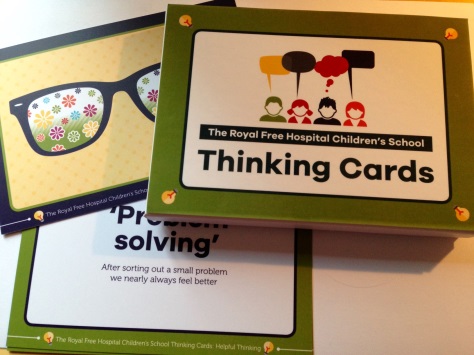 Our "Thinking Cards" were developed to help young people improve their mental well being utilising techniques from Cognitive Behaviour Therapy (CBT) and mindfulness.
We wanted to develop a learning tool to support young people in identifying their positive and negative thought patterns. The overall aim was to see a reduction in anxiety and an improvement in resilience.
We looked at the ideas used in Cognitive Behaviour Therapy and Mindfulness and sought to distill the key ideas into 25 or so easily remembered phrases that could be presented on cards for them to learn and work with. The aim being that young people can improve their inner life and well being by suffering less from unhelpful thinking and benefit more from helpful thinking.
All resources and guides (including for the new Primary Thinking and Feeling Cards) are now all available at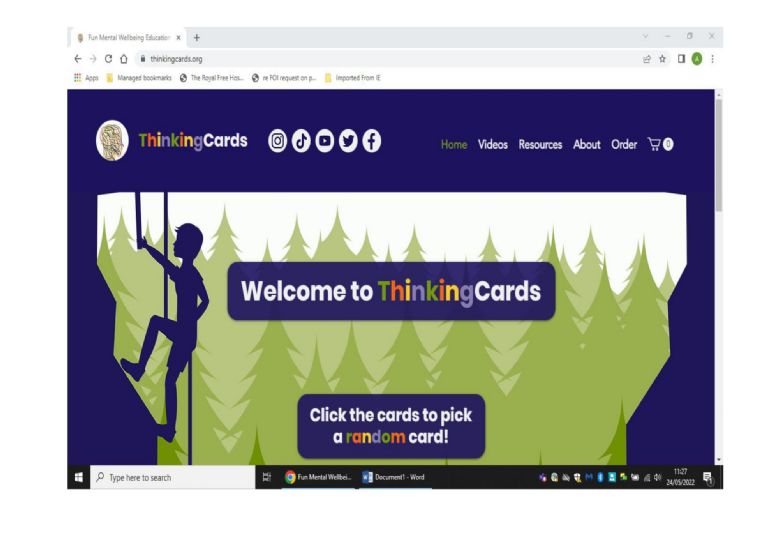 UNHELPFUL THINKING
HELPFUL THINKING
Who were the identified target learners?
At the Royal Free Hospital School, the cards are used with Key stage 2-4 pupils with mental health challenges but they could be used with equal effectiveness in mainstream settings with children and young people struggling to develop resilience.
They may be especially useful to teachers, SENDCOs, pastoral leaders, learning support assistants and mentors.
How can I use them in my setting?
The cards are used to teach young people to identify their negative and positive thought patterns.
The cards are also designed to encourage a dialogue between personal tutors/learning mentors/teaching assistants and pupils and provide a scaffold for breakout sessions.
Children and young people set themselves targets over a period of time and by a particular focus on the helpful thinking cards can exhibit changes on their thinking and feeling.
The visuals appeal to young people and are combined with simple yet powerful messages to enable them to identify and challenge negative thinking.
We have endeavoured to make the use of the cards a special experience for the young people. The cards have a high quality finish and presentation and are supplied in a velvet lined presentation box.
How can I purchase them?
Through our website above
The cards start at £15 for a single set but can be reduced for larger orders.
For an initial discussion or to arrange a trial please contact Michael Kelly 0207 472 6298, who would be happy to hold an initial meeting with the interested school and discuss the experience of using the cards and the most effective ways thery can be used.
Orders can be made through admin@royalfree.camden.sch.uk