Pears Building Time Capsule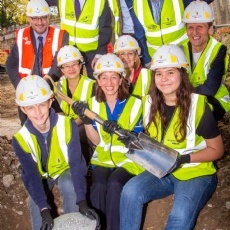 Annabelle and Toby joined the 'bottoming out' ceremony for the new Pears Research Building having filled a time capsule to be buried before work begins.
We have formed a new partnership with the Pears Building of the hospital - a new medical research centre focused on exploring treatments for conditions such as cancer and diabetes. One of their lead scientists, Dr.Joe Grove, has asked our students to respond to their research into viruses and create artwork that will be used to promote the new building. The pupils' finished pieces will be exhibited on the hoardings of the building and are on display on their website. Additionally, our pupils were asked to create artwork that which will be placed in a time capsule buried beneath the foundations at the lowest point of the new site. The young people involved attended the opening ceremony of the Pears Building alongside Sir David Sloman and the chief executive of the Royal Free Charity, Chris Burghes.