Diabetes Education Programme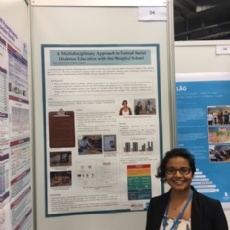 The school has been working closely with the paediatric staff here to develop a Diabetes Education Programme for patients, parents and carers. The project has been successfully submitted for presentation at a number of medical conferences taking place this month. Pictured is Dr Neha Jain representing the team at the International Forum on Quality and Safety in Healthcare in Gothenburg, Sweden.


Professional recognition of the Diabetes Education Programme
What started as an inter-disciplinary conversation between colleague, has ended in the development of a Diabetes Education Programme that is going to be presented at two prestigious paediatric conferences. The idea was the brainchild of Dr Neha Jain and our Deputy Head, Steve Green, who, working closely with two of the hospital's paediatric consultants, Dr Victoria Dublon and Esther Freeman, devised a programme that would improve patient and parental understanding of the condition, leading to greater compliance and control. Neha and Steve will now be responsible for explaining the development and impact of the programme to other medical health educators at 'The International Forum on Quality and Safety in Health' at Gothenburg in Sweden and at 'The Royal College of Paediatrics and Child Health Conference' in Liverpool in April. We wish them the very best of luck in their endeavours to share good practice. Well done!