Camden Youth Award Winner!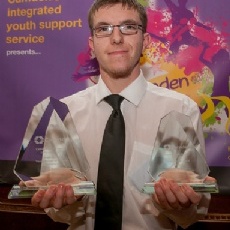 Many congratulations to our former pupil, Paul, winner of The Inspirational Young Person of the Year Award at the Camden Youth Awards on held on Thursday 26th November.
The Camden Youth Awards celebrate the success of young people's achievements and their ability to overcome barriers but also the fantastic work of our youth support services and voluntary sector partners.
The Inspirational Young Person of the Year was a former pupil ar RFHCS, Paul, 18, who also won the Personal Journey Award. Paul has suffered with mental health issues and used his experiences of services to make a video, with the Anna Freud Centre, to highlight his coping mechanisms. He did this to help other young people.
Paul not only appeared in this film but was involved in all aspects of the production. He was nominated by the Camden Connexions service. He is a carer for his mum and supports her as much as he can while also working as a part-time events steward.