Doreen Addy Tribute School Fundraising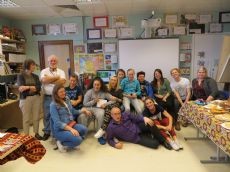 Staff and students raised money for The Doreen Addy Tribute School in Ghana, as part of our Black History Month celebrations.
Students and staff baked cakes for the event and prizes were bought for the raffle. The Garden Gate in Hampstead Heath donated a 'meal for two' as the first prize, which encouraged more people to buy tickets!
On October 24th, students, staff, nurses and patients visited the classroom for 'Guess how many sweets are in the jar' and 'Name the Bear'. They enjoyed the amazing cakes and bought coasters and key rings that the students had made.
The Fundraising morning raised £143.07.
On top of this, we received a donation from Wokingham Lions Club through charity work carried out by one of our teachers', Vicky Hanton. This brings the total raised to £223.07.
Doreen was and still is, very close to the hearts of staff at the school who worked with her and we felt very passionate about raising the money for this wonderful charity in Ghana which we know Doreen would have supported 100%.