WikiSites
"I think that creating his WikiSite has given him a new lease of life and has given him hope for the future. He has opened up in a way that he has not done since I've known him. He is upbeat and chatty every time I see him and he has started to talk about doing his exams in the summer. This is very positive and I hope it will continue."
Multimedia Advocacy is a fantastic way of using media to communicate the wants and needs of children, young people and adults with communication difficulties through the use of video, image, sound and picture. esp those with a large number of professionals involved across a number of sectors.
RFHCS has worked closely with The Rix Centre, a research and development centre based at the University of East London, to develop it's use of Wiki Sites. Our work has focused on the development of online 'Wiki Sites'. Wikis are simple and accessible, private and secure easy-to-build personal websites.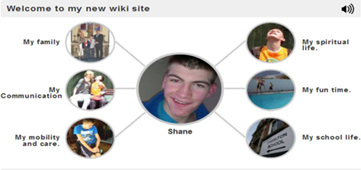 We have found they give a much clearer sense of ownership of both academic and personal development targets.
It gives the student more power/ control over their lives e.g. They make choices based on their own preferences.
RFHCS is happy to support local schools who are interested in using Wiki Sites.