Therapeutic Approaches
The school incorporates a number of therapeutic approaches as part of both its Day School curriculum and in learning opportunities across the wards.
Speech and Language Therapy
The school employs a Speech and Language Therapist through Finsbury Health Centre. Work centres around assessment, individual support and advice and training for staff.
Drama Therapy
The school supports placements from Royal Central School for Speech and Drama. The school has employed a Drama Therapist across our sites from 2019/20.
Music Therapy

The school supports training placements from Nordoff Robbins.
Nordoff Robbins is a national music therapy charity dedicated to transforming the lives of vulnerable children and adults across the UK who use music therapy and other music services to help a range of people with a range of challenges such as autism, dementia, mental health problems, stroke, brain injury, depression and life-threatening or terminal illnesses, such as cancer.
Pets as Therapy
Pets As Therapy is a national charity founded in 1983 by Lesley Scott-Ordish.
We enhance health and wellbeing in the community through the visits of trusted volunteers with their behaviourally assessed animals. We provide a visiting service in hospitals, hospices, nursing and care homes, special needs schools and a variety of other venues all across the UK.
We receive regular visits from the lovely Molly! (below) as well as London and Rollo.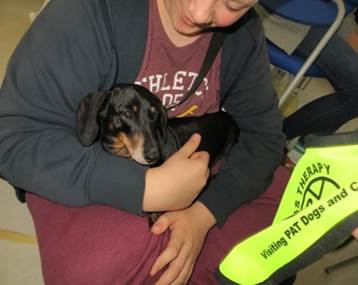 Mindfulness
Mindfulness sessions play a key role in our PSHE Programme.
Equine Therapy

Learning Through Horses is a North London based charity we work with who deliver alternative education programmes, which, through working with horses, provide an opportunity for disengaged and / or vulnerable young people and adults to develop vital skills required to further their employment and educational success.