Special Schools' Voice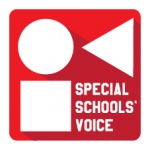 http://www.specialschoolsvoice.com/
Special Schools' Voice is looking to provide a means for special schools to speak collectively and be heard so that we can ensure the best possible outcomes for the children and young people we work with. Our aims are to:
Help teachers speak with one voice: by creating a collaborative assembly with special schools and academies across the country.
Influence policy: by listening to the issues faced by special schools and academies, so we can be a proactive partner in policy making and implementing practice.
Influence educational thinking at national level: by ensuring that government agencies are aware of the implications of education policy on special schools and their pupils.
Support agencies: by ensuring they understand the education needs of the very complex and diverse population within special schools and academies during their consultations.
Promote special needs education: by raising the profile of special schools and academies.
Represent special schools and academies: by listening to their views and aspirations, and feeding back issues for discussion and debate.
Act as a catalyst: by working with national and regional organisations that represent special schools and academies.
Be effective: by operating as an accountable, not-for-profit, professional organisation within an identified quality assurance framework.