About the Hospital
The Royal Free Hampstead NHS Trust has around 900 beds and sees about 700,000 patients a year from all over the world.
Hospital services include a major accident and emergency service, all branches of surgery and medicine, a renal service serving the whole of north London, paediatrics, maternity services, care of elderly people, an adolescent psychiatric service.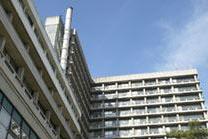 The Royal Free is renowned for specialist services including liver, kidney and bone marrow transplantation, renal, AIDS/HIV, infectious diseases, plastic surgery, immunology, paediatric gastroenterology, ENT surgery and audiological medicine, amyloidosis and scleroderma. The hospital is a leading cancer centre with a range of specialist diagnostic and treatment services in oncology and haematology and a major neuroscience base with a network extending throughout north London and into the Home Counties. There are associated internationally recognised research and training programmes.
The hospital and associated medical school conduct medical research, much of which is of international status.
For more information about the hospital please click here.