ArtsMark Platinum Award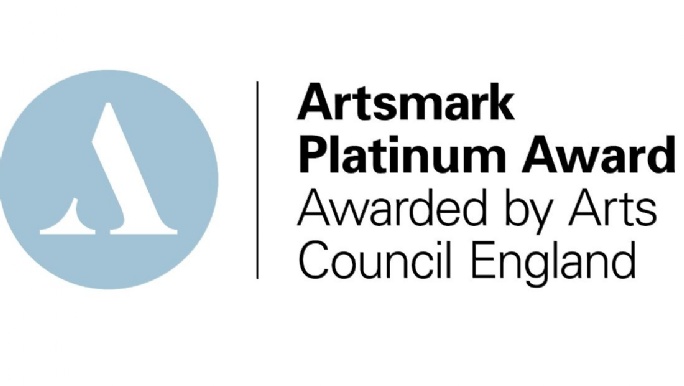 We are delighted to have been honoured with Artsmark Platinum Award in March 2022. Despite the inevitable challenges which have affected schools throughout the pandemic, we strive to maintain a high standard in all areas of our creative provision which filters across our whole school setting and into the wider community.
Our recent Artsmark journey highlights many important developments including broadening our range of offer with cross-curricular creative workshops, enriching staff CPD and prioritising pupil voice. Last academic year we had a 70% uptake in pupils who pursued the arts in their further studies; courses ranging from music production, drama and art and design A level. Our temporary redeployment to the Whittington led to a new partnership with another hospital school, where we were able to help enrich their art provision, introduce new resources and develop hospital school pedagogy. Our TIPIC project has led to us working closely with different settings in Camden, sharing good practice using our expertise as a trauma informed school through an Artsmark lense. Supporting other schools with young people developing EBSA continues to be one of our priorities as a specialist AP. Our 'Linked Up' project will seek to address this problem and has allowed us to work with a local artist to help with the delivery of a wide range of arts and cultural experiences to reach out to vulnerable young people struggling to access education.
We are continuing to develop our work with Camden Spark and the Arts Council, currently supporting them with an extensive piece of research into hospital schools. We are taking part in interviews discussing the practicalities of implementing the arts in a specialist setting – this will help them create a case study along with exemplary materials on how the arts are used to support wellbeing and education in hospitals. All these opportunities will consolidate our platform in Camden to help inspire other hospital schools to join the Artsmark community.
As a result of achieving Platinum award , we were delighted to be invited to talk on a Podcast with Artsmark's expert officer Lynne Brackley. We spoke about our journey as a specialist setting towards achieving the award. We delved into how we use the arts as a platform to re-engage students not only with school, but with society, helping them develop resilience and the confidence to express themselves. See link attached for the podcast.