Top of the class!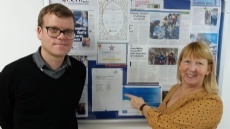 Top of the class! OFSTED say hospital school provides an "exceptional" education for its pupils
29 November 2019
The Royal Free Hospital Children's School (RFHCS) has received a faultless inspection from Ofsted - taking it from a 'good' to 'outstanding' rating.
Inspectors praised the school, saying it provided an "exceptional quality of education" and said pupils were "settled, safe and happy". Inspectors not only met with teachers, a paediatric consultant and other senior leaders, they also met with pupils, parents and members of the governing body.
Their report said: "Leaders reassure pupils who are admitted to the ward that they can continue learning and keep up with school work. Teachers help pupils learn at their bedside or in the classroom."
Ofsted were also impressed to discover that pupils complete an 'all about me' booklet so that all adults at the school understand the pupil's personality, interests and goals for the future.
The inspectors noted that pupils' behaviour is "excellent". They also said: "They (pupils) are kind and supportive of each other because adults show them how. Pupils are confident that there is no bullying, or, if there were, that adults would deal with it."
Teachers were praised for ensuring work was suitable for individual pupils and for their help and support. Inspectors also gave teachers credit for making sure pupils challenged themselves and they observed the hospital's teachers were creative and diligent, coming up with lesson plans that took account of children's interests.
Head teacher, Alex Yates (pictured with school manager Susan Caesar), said that staff were delighted with the results of the inspection and that it reflected their determination to ensure pupils were well supported to manage their conditions and to focus on learning and achieving their best.
Mr Yates said: "Often our pupils have to overcome considerable gaps in their education but they study successfully for a range of GCSEs and other qualifications. Almost all pupils rejoin their main school or go on to college. I'd like to pay tribute to the hard work of teachers, support staff, governors and all the volunteers from the Royal Free Charity that work with us.
"It has been so wonderful for staff to receive this praise which reflects their passion for what they do and their ambitions for their pupils to return to mainstream education."
RFHCS pupil Ray Fowler, 15, said: "I'm proud of how the students look after each other in my group and how staff always help us when we need further support. We have lots of opportunities to make progress."