Puppets for Diabetes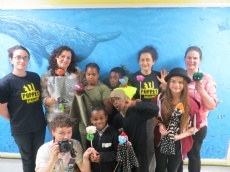 After a generous donation of £5000.00 from The Diabetes Wellness and Research Foundation, the first of four sessions for young children with diabetes learning puppet and film making skills was launched during the May half term.
The intention is to produce an educational video addressing some common myths around diabetes and also to explain the day-to-day experiences of living with the condition. The documentary should be of great benefit to children newly diagnosed with the condition, and most importantly and excellent vehicle for having fun and talking to other child and families with the condition. Thanks to our Deputy Head, Steve Green, Tommy from WAC Arts, Maria and Marissa from E17 Puppets and Dr Victoria Dublon and Malvina, our Paediatric Diabetes Specialist Nurse.