A Thank You from Kinder Paradise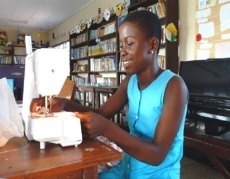 Dear Pupils of the Royal Free,
Hope the New Year is treating everyone well and that resolutions are still being kept to for the most part! We wanted to update you with progress on the project at Kinder Paradise, Ghana which we have been in partnership with you in Doreen's memory.
Kinder Paradise is a non-profit organisation that supports orphans and underprivileged children in the outskirts of Accra, Ghana. The centre has a school and runs various support programs for the children and community. As part of Doreen's charitable fundraising we have successfully started foundation works on the outbuildings of the centre, which will house medical and educational provisions for the children. Thank you all for your continued support, it is very much appreciated and I'm sure Doreen would be happy at the early progress made!
We will keep you updated with progress.
Leslie Addy