Doreen Addy Award 2015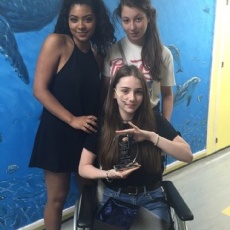 Congratulations to Amber, who is our Doreen Addy Award winner for 2015!
The winner of this year's Doreen Addy Award was one of our Year 11 leavers, Amber. Amber overcame a series of challenges to complete her GCSEs and is now studying a Level 3 course at college. As the photo shows, she did it with the support of a number of fellow pupils in Year 11, including her friends Tiegan and Maddison. We are proud of her and all our Year 11 pupils who achieved fantastic results this Summer.
Doreen was an inspirational teaching assistant, who sadly died in September 2011 and we remember her through this award and the money we continue to raise for her Tribute School in Ghana.