Rory's Mural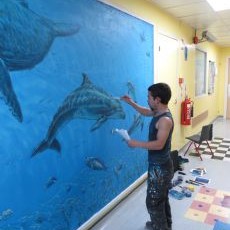 We have a wonderful new mural thanks to friend of the school, Rory McCann.
Rory had visited the school earlier in the term, with his brother Finn, as part of 'Talk on the Wild Side' http://talkonthewildside.com a Social Enterprise, aiming to raise aspirations, achievement, and self belief in young people throughout the UK.
This time he was here in his capacity as a master mural painter http://rorymccannmurals.com
After some initial work with our students Rory had just 3 days to complete this 5m x2m aquamarine-themed masterpiece! There are more pictures to see in the gallery.
Watch how Rory works here: